Automatic Wallpaper

AutoWall 2.0 for Windows

Back to Pierre Arnaud's.
Introduction
| | |
| --- | --- |
| | AutoWall 2.0 is a freely redistributable utility, which can change the background wallpaper whenever you log to your computer. It is running on Windows 95/98 and Windows NT and can be downloaded here as a ZIP archive ! |
| | A beta version with JPEG support can be downloaded here. Install AutoWall 2.0 first, then copy the new AutoWall.cpl and AutoWall-jpeg.dll into the Windows\System directory to update the installation. |
Installation procedure
Extract the files from the ZIP archive. This will create a temporary AutoWall directory, containing the following 3 files :

Put the BMP images you want to display as your random desktop wallpaper into a directory (we suggest C:\Program Files\AutoWall).
Click with the right mouse button on the AUTOWALL.INF file and select Install. This will open a dialog asking for the directory containing the images to be shown. You can access this dialog afterwards thanks to the Automatic Wallpaper control panel applet.
The (random) wallpaper will appear the next time you log on back again.
You can configure this behaviour (and the directory from which the files come from) thanks to the Automatic Wallpaper control panel applet. If you want to change the source directory for the images, you can drag and drop it into the Automatic Wallpaper control panel applet :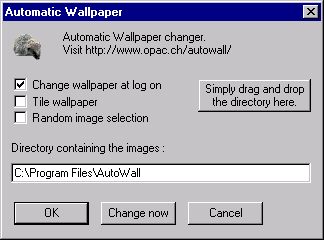 Redistribution
You may use and redistribute this software freely. It has been developed for fun and uses some techniques (such as control panel applets) which were new to me.
E-mail is welcome.
You can also find related (and unrelated) freeware at WinFiles. By the way, do you know the smart games developed by EPSITEC : Blupi and COLOBOT ?