Yverdon-les-Bains

A view of the town in a few pictures
Yverdon is a small town of 23'234 (1995) inhabitants located at the North of Canton de Vaud, at the beginning of Lake de Neuchatel, the largest lake fully located in Switzerland.
The following pictures try to give the visitor an idea of some interesting places to visit or which I just consider worth seeing. You can send me your opinion about these shots.

Part of them were taken using an old Retinet camera and developed on a Kodak Photo-CD back in 1994. Some of the newer shots were taken with the Minolta RD-175 shown on the right (this is a fully digital 3-CCD reflex camera which produces very accurate true color images of 1528x1146 pixels; it is equipped with a small PC-card hard disk, which can store about 115 pictures). Other shots have been taken with the Sony DSC-S70.
La Maison d'Ailleurs is the famous Science Fiction Museum located in Yverdon. It is the house just on the right, with this nice, golden and shiny shield.
Here are nice aerial photographies of the center of Yverdon which feature the castle and the temple.
---
Pestalozzi lived in Yverdon and taught poor children. His statue stands with two children in front of the temple. On Saturdays, the area around the temple (the Rue du Milieu and the Place du Marché) is occupied by the market, where you can buy fresh products, such as vegetables, fish, meat, cheese, etc.
The frog above was created in 1997 and the frog on the right was created back in 1994; both are about 2 meters high (approx. 6 feet). The mushroom tree below was designed about 1995 and was flourished again every year.

Congratulations to the gardeners who flourish Yverdon !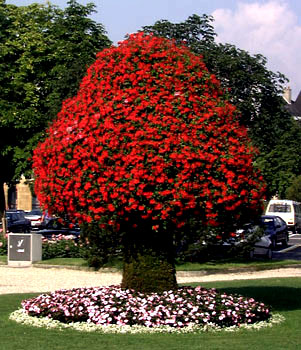 ---
This page has been last updated in December 2000.